Host all your DC wedding events with us
When it comes to your wedding, sometimes a single day just isn't long enough to celebrate. At Kimpton Hotel Monaco DC, we can plan and execute a full weekend's worth of events, from the welcome party's first champagne toast to the last sip of mimosa at your farewell brunch. With a variety of distinct event spaces, mouthwatering catering options from our Dirty Habit culinary team and a lineup of creative wedding experts on-hand, we can guarantee to make each event capture your vision for the ultimate wedding weekend.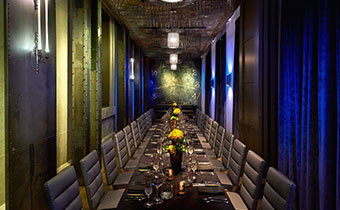 Rehearsal Dinner + Wedding Welcome
Your wedding rehearsal ensures that practice makes perfect. As for ourselves, we are quite practiced at rehearsal dinners and wedding welcome parties, and invite you to choose from several alluring options. Gather around in our Birdcage. Or dine among the marble walls in the private Clock Room. Other venue choices include our Courtyard and Glass House. Whatever space fits your guest list, your friends and family will be raving about Dirty Habit seasonally inspired dishes, sourced from the finest purveyors of sustainable foods.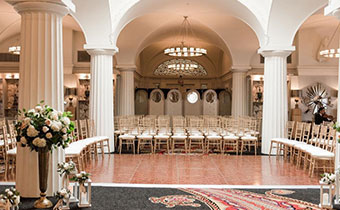 Wedding Ceremony
Say "I do" in our exquisite Paris Ballroom, a large and luminous sanctuary with all the historic elegance of Old Washington. Follow up your evening with an elegant cocktail hour in our Athens Ballroom. Our sophisticated space is sure to impress your guests and make your wedding photography pop. Our professional team is on hand to make sure every detail is flawlessly executed. Your only duty is drinking in every dreamy moment.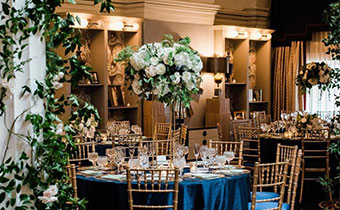 Wedding Reception
After the rings and the kiss, it's time to let loose and celebrate. If you're thinking of an epic bash, our Paris Ballroom, can host up to 220 guests for dinner and dancing, amid high ceilings and grand windows overlooking our central courtyard.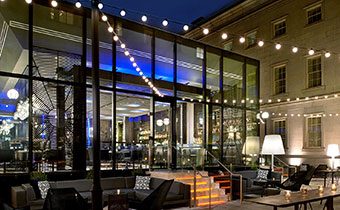 The After Party
The alluring dining room of Dirty Habit conjures an air of mystery. The Glass House Bar offers an atmospheric counterpart to the dining room's dark decadence — soaring ceilings plus sweeping views of the patio. Or, if you prefer some fresh air… the Outdoor Courtyard presents a respite of fresh air and intimate fire pits — an urban campfire at which to gather, and get acquainted with one of the best venues in DC.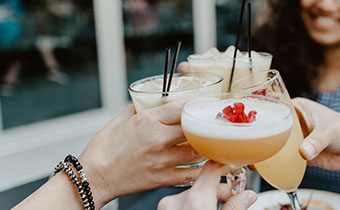 Farewell Brunch
Parting is such sweet sorrow. A farewell brunch can soften the departure woes and tie a bow on your wedding weekend. Kimpton Hotel Monaco DC offers The Athens Room, which will impress your guests with a beautiful send-off. Or Dirty Habit DC offers a number of other choices designed to suit your needs. We can't think of a better way to end the perfect wedding weekend.